Keep Track of Prerender Service Maintenance
---
Share feedback
Thanks for sharing your feedback!
If you are experiencing any issues with the Prerender service you can quickly check if it might be because of a network issue or is it because of maintenance.
You can also keep track of and get updates about scheduled maintenance here.

Monitored services
Direct link: https://status.prerender.io/
When opening the status page you will be on the Status tab by default where you can quickly see the overall status of our systems.

You can check the following services' status.
Prerender Service

Service
Static IP (Legacy)

Recaching Service
Website API

Website
API
Dashboard
Knowledge Base
Authentication
Maintenance
Direct link: https://status.prerender.io/maintenance
Here you can see upcoming scheduled maintenances.
From here you can also jump to the Previous Incidents tab with the button at the bottom of the page.
Previous Incidents
Direct link: https://status.prerender.io/incidents

You can see reported issues and maintenances historically broken down into months.

Get status updates
Subscribe with your email address to get email notifications whenever Prerender.io creates, updates, or resolves an incident.
Click on the Get Updates button at the top right of the page and type in your password.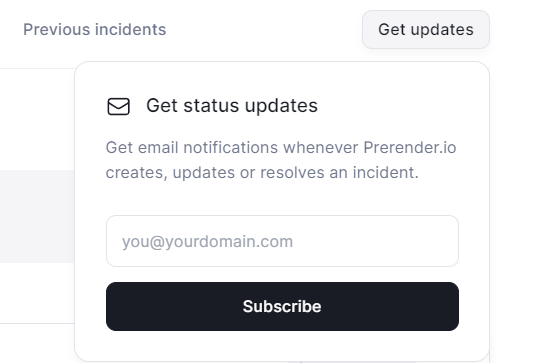 ---
Was this article helpful?
---
What's Next